Complexity

Costs

Challenges
The Challenge: Getting Value From Data Is Difficult
According to Gartner, IDC, and others, up to 90% of enterprise data is dark data: information assets that are unused, unstructured or hidden - documents, applications and data repositories. Additionally, extracting insights from data is time-consuming: data scientists spend nearly 80% of their time on data preparation tasks: collecting, loading, curating, and cleaning data before it can be used to extract useful insights. Watch the brief animations below that show key challenges at each stage of the process:
Data Ingest, Data Modeling and Results. Getting value from your data shouldn't be so difficult.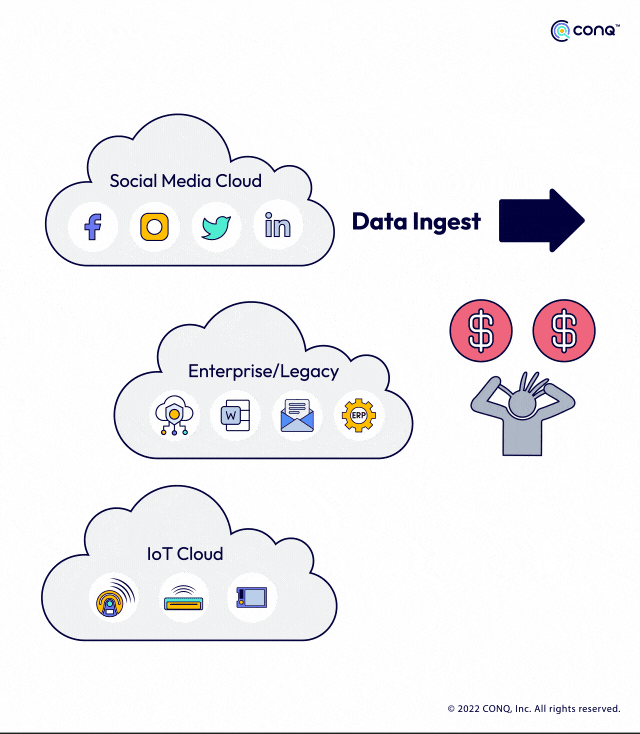 Collecting, Cleaning, and Organizing Data is Difficult and Time Consuming.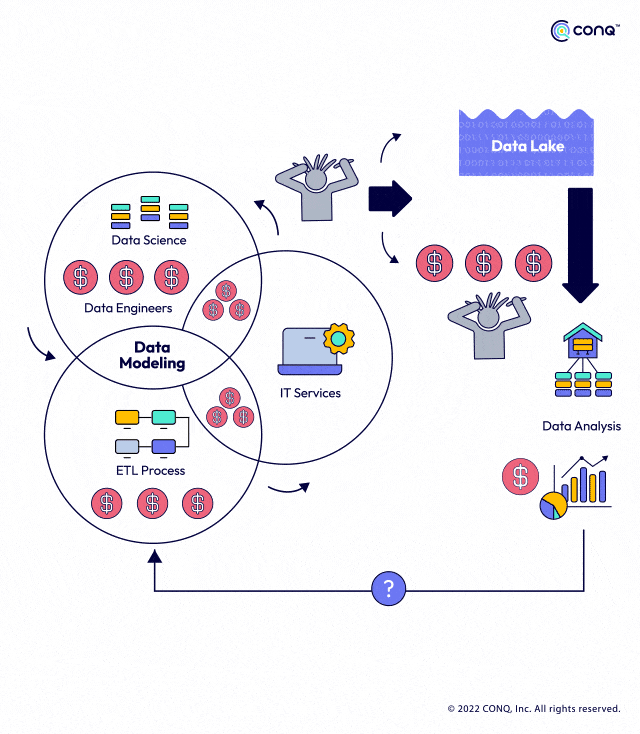 Many AI/ML Experts are Needed, Yet a Massive Talent Gap Exists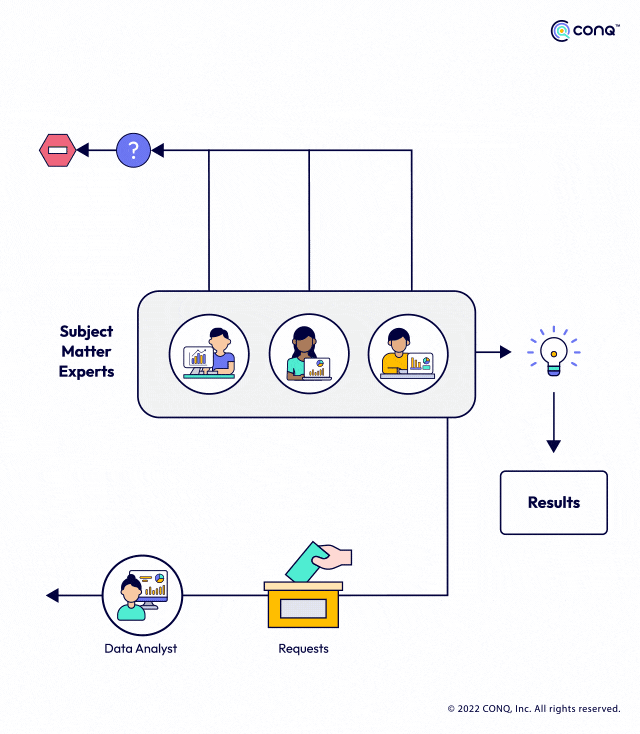 Business SMEs Can't Easily Transfer Needs to Tech Requirements: ROI is Sub-optimal
Transform Information To InsightsTM
There's a better way. CONQ™ enables you to make all data your greatest asset. With one click, you can rapidly transform information into evidence-based, actionable insights that make a measurable business impact. By eliminating silos of information and analyzing any type of data (structured and unstructured), you can accelerate decision making and time-to-market. CONQ is so fast that it can read and analyze the complete Harry Potter series in less than 2 seconds.
How CONQ Works to Deliver
Measurable Business Impact
Here are three impactful ways that you can deliver measurable business impact with CONQ:
Identify Ideation InsightsTM
How can you elevate your Customer Experience at any stage of the buyer's journey? If you're a B2B enterprise or a PR agency, you can leverage Voice-of-Customer data from videos, press releases, case studies, interviews and more to determine what key messages are resonating with your clients, and use those insights to enhance your brand messaging and content marketing strategy. You can also optimize your sales scripts and campaigns for conversion. Customer service and success teams can leverage insights from service calls, email, and problem resolution processes to increase Net Promoter Score (NPS) results and optimize retention.
Minimize Fraud, Waste and Abuse
A Journal of the American Medical Association report notes that as much as 30% of healthcare spending may be Fraud, Waste and Abuse (FWA). The challenges from FWA span other sectors beyond healthcare and include Retail, Banking, Fintech, and Insurance as well as federal, state and local governments.
You can leverage CONQ's 20 years of experience working with both the public and private sectors to ensure that money is going to the intended recipients with accountability, transparency, and real-time oversight with robust internal controls. CONQ also accelerates advanced forensic investigation to identify fraudulent activity that is not possible to implement with traditional tools and processes.
Reimagine Lean Process AutomationTM (LPA)
Business processes across complex industries are filled with daunting, repetitive, and human error-prone tasks. You can save hours, days, and weeks by using CONQ LPA to sort through millions of records, notes, and data to yield better results in a fraction of the time with high levels of accuracy. CONQ automates lean process methodologies in various industry use cases:
Healthcare: Assist physicians to quickly and accurately diagnose diseases and reduce diagnostic mistakes in primary or specialist care. LPA can also help flag acute abnormalities, prioritize life threatening illnesses, predict stroke outcomes, and help manage chronic diseases.
Law Enforcement: AI has now become an integral component in law enforcement for surveillance, crime prevention, crime detection, and resolution. CONQ has already used the power of AI to reduce the amount of time it takes to solve cold cases from years to weeks. LPA can also use pattern recognition not detected by humans to monitor situational awareness and predict or prevent crime.
Insurance: Quickly identify at-risk claims and predict high-cost claims by using LPA across structured and unstructured data. Convert claims processing hours into seconds with as much as a 10X improvement in productivity by streamlining the administrative processes, reducing costs, and increasing efficiency.
CONQ can process over 500,000 words/sec.
Our software scales
with your business
CONQ software is up to 96% accurate on searches
Get to insights
~20X faster
Get Unified Data Through Unbiased LearningTM Today